Internet & Network Setups
We can provide qualified WiFi engineers to visit your home or business premises to configure, install, troubleshoot, or set up your wireless router or WiFi network.
A secure wireless network can provide you with freedom of movement anywhere at home or in your office. You can move around with any WiFi enabled laptop and still have internet and network access to your home or business network.
If you have broadband internet access and you want to access the internet or your home network without any cable connection to your modem or router, then we can help. We will provide free consultation on what equipment you may need with an approximate cost of the equipment and the relevant labour charges for the installation of a wireless network.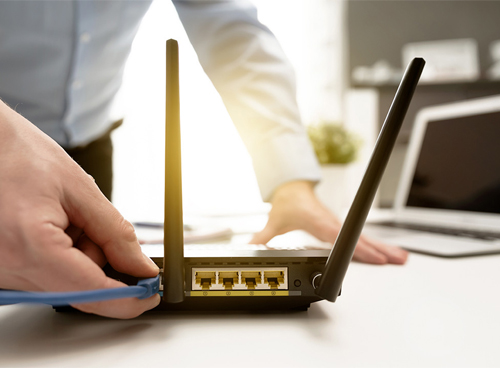 If you have an existing network and it's been poor and unreliable, or you can't get it to work we can fix this for you. We can offer a solution often without the need to replace or change existing equipment, incorrect setup or settings is the biggest common factor with WiFi issues.
If your broadband WiFi signal does not reach your garden, office, or you live in a larger than average house, we can install a wireless WiFi extender to help cover the extra distance.
We can help with wired networks too! We can set up file sharing, network printers, and network cameras.